Rafting
An Intense, Exciting Sport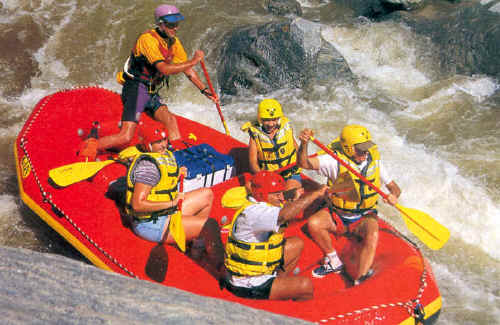 Those most committed are already putting on their life vests, carefully fastening each clasp, adjusting their helmets, while hearing the river roar its challenge. Everyone takes a deep breath The crew members unload the rafts from the 'Canoemobile.' They're multilingual experts from various parts of the world. Their skills have been honed here and there, but they've decided to make Huatulco their home base. Their job: to offer an intense experience of nature in its purest state to their intrepid guests, one that will draw on all their inner resources and bring out the winning spirit.
Four runs of varying difficulty have been prudently designed to offer everyone a challenge. Even though the guides are old hands at providing security and service without diminishing the adventure, some visitors still opt for a more tranquil trip that they can share With their families. There are runs for children of 6 and/or their grandparents, ones that traverse tranquil currents and others that will drench the river's would-be conquerors and thoroughly rattle their bones.
Several hours later, at the end of the trip down the Copalita River, heartily desired and well-deserved shots of tequila are raised in toast to the companions who helped make fantasy become reality. Yes, they conquered the river but its invincible heart remains here in this beautiful land.
Oscar Franco